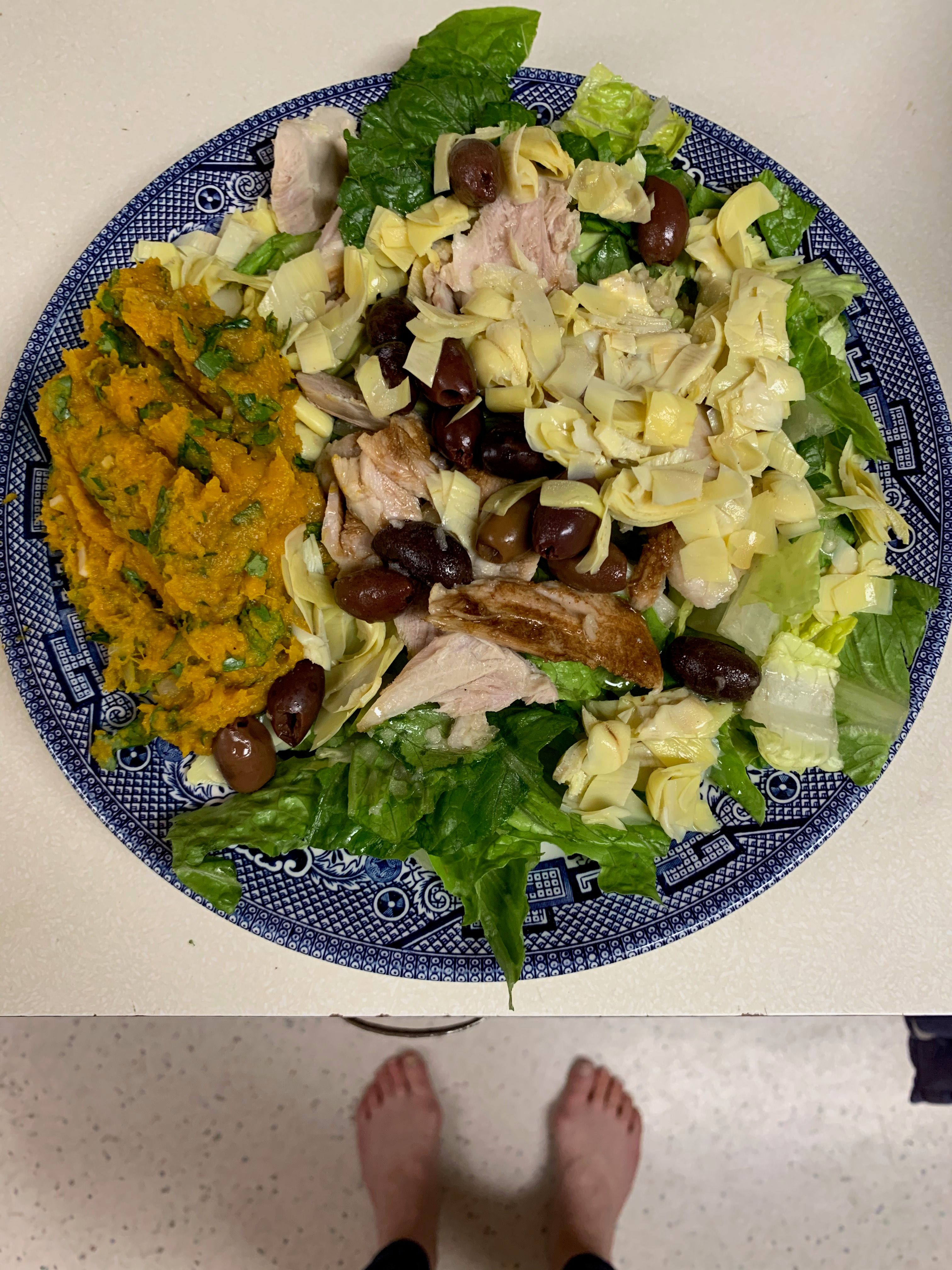 OK, so yeah, it actually looks yummy. But I also want a carb!! 😫 
...and one ravenous bite after the next later: That was so good, I didn't want it to end! After each bite, I gave thanks that there was still another... until it was gone, and then I gave thanks for how delicious it had been. 
It was good, I'm going to bother to log what it was and how to put it together: 
- Half a head Romaine lettuce (Note, I would not chop it into such small pieces next time; hard to get on the fork) 
- A bunch of kalamata olive
- Half a can of marinated artichoke hearts, chopped 
- Cold leftover chicken - mostly leg meat (some pieces got unintentionally seasoned with a balsamic vinaigrette left on the plate where I had set the chopped chicken aside - those pieces were little flavor bonuses) 
- Simple vinaigrette dressing: avocado oil, red wine vinegar, crushed garlic, and sea salt (pink salt woulda been better) 
- Butternut squash (pre-roasted, then fried with onion; re-heated in pot, added umami shiitake powder and fresh chopped parsley and cilantro (LOVED combining those two!) 
That was it. Easy, and I'm full. Do I feel satisfied? Well, I don't feel like reaching for the corn chips anymore, but within five minutes or so of finishing my dinner, I was craving chocolate. Now I'm craving a glass of red wine. I had been giving my body treats all day long - morning coffee, afternoon chocolate, evening wine. I still want a treat of some sort!